LINDA EVO AES
LINDA EVO AES is the smart and versatile Tecnocare® medical chair with a modern and ergonomic design.
Thanks to the various accessories available for customization, it is suitable for the most popular treatments in aesthetic medicine. A wide range of colors makes it possible to complete the customization and adapt the chair to the aesthetic of the clinic.
The chair complies with the essential safety requirements as prescribed under the European MDR 2017/745.
The configuration proposed here includes:
Stainless steel lateral tool holder bars
To accessorize the chair with the tools of choice.
Adjustable surgical rotating armrests
With a supportive shape and soft-touch finish, offer excellent ergonomics thanks to the possibility of height, angle and axis adjustment.
COMFORT wide multi-articulated headrest
Featuring a large support surface in line with the backrest and a multi-articulated mechanism that allows it to be placed over the backrest (for patients of short stature), it also allows the head to be positioned at a negative angle, for operations that require the surface of the neck to be exposed by placing it under tension.
Medical Design Lamp
Characterized by high performance and easy handling, with adjustable colour temperature (4000-4500 K) and ambient light, light intensity of 105,000 lux at 0.5 m distance with 25% to 100% regulation.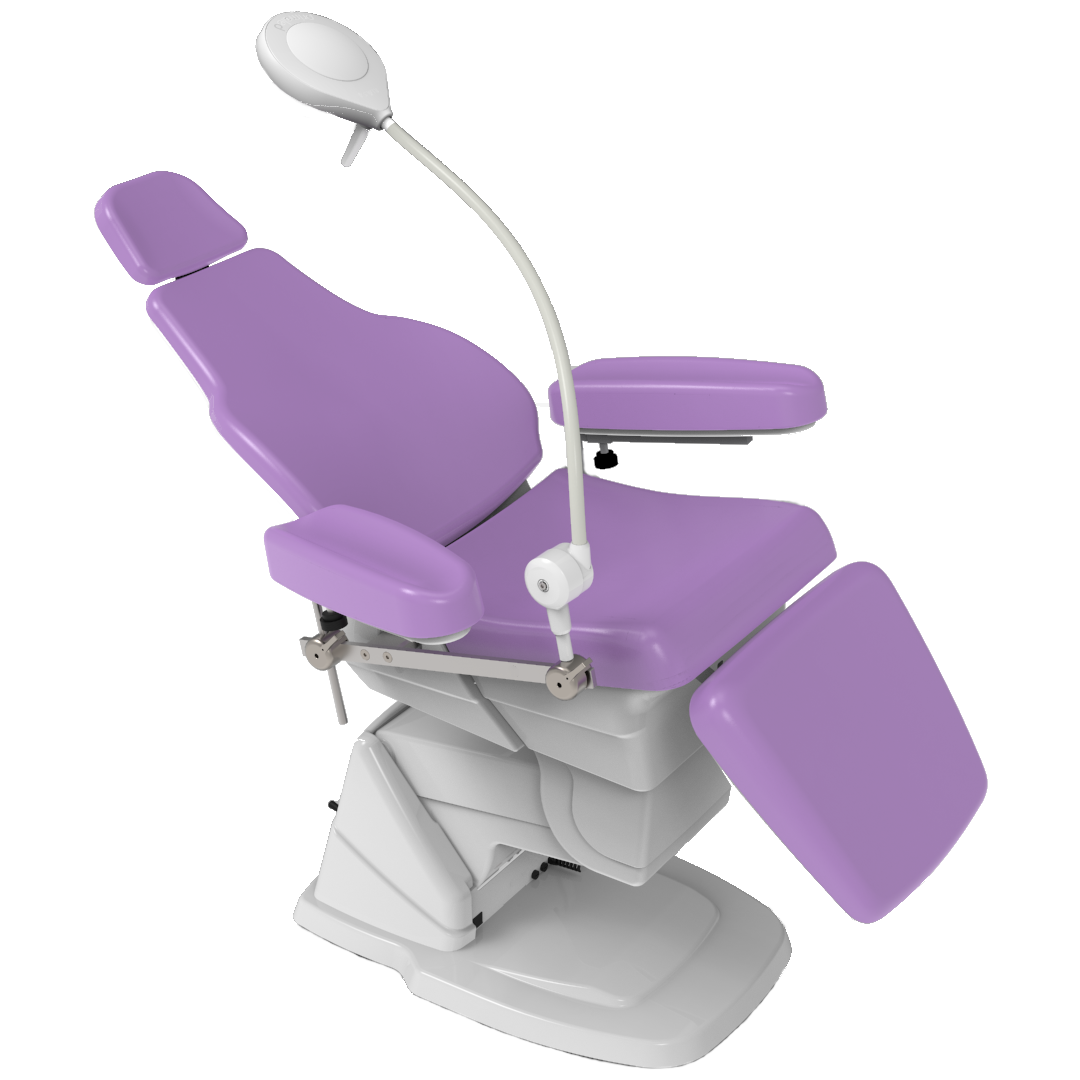 Standard features
Complete symmetry, usable by both right and left-handed professionals
Fully electromechanical upward, downward and tilt movements of the backrest
Backrest movement compensated, up to horizontal position
Tilting of the backrest synchronized with the elongation of the leg rest
Double-articulated headrest VALE
24 DC linear actuators
Safety stops on backrest and lifting arm
Three user programmable customized working positions
Automatic program for complete return to the patient lowering position ("zero")
Low voltage controls: 5 V
Joystick control, on the base
Power supply with automatic selection 110V /230V
Options
Different headrest models
Magnetic cushion C95 or C2002
Rotation system around the vertical axis under the chair base (320°)
IR remote control
Seamless memory foam upholstery
Handmade soft-foam upholstery
Handmade soft-foam upholstery with contrasting color stitching
Stainless steel lateral tool holder bars
Surgical armrests
Compact Directional Lamp
Polyurethane gel handrest